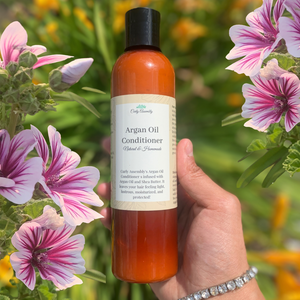 The purpose of a conditioner is to moisturize and re-hydrate your hair after using shampoo. Curly Assembly's Argan Oil Conditioner (8 oz) does that and more! Infused with argan oil and shea butter, our conditioner provides maximum benefits for all hair types!
***Perfect for all hair types***
Ingredients and Benefits:
Argan Oil - high content of antioxidants, essential fatty acids, and Vitamin E. Argan oil is able to naturally help increase the hair's moisture content and elasticity, combat frizz, and also protect the strands from damage
Lavender Essential Oil - contributes to hair growth, natural fragrance, moisturizes hair
Additional Ingredients: Deionized Water, Disodium Laureth Sulfosuccinate, Sodium Cocoyl Isethionate, Cocamidopropyl Betaine, Lauramidopropyl Betaine, Silicone Quaternium-8, Trideceth-10, PEG-120 Methyl Glucose Trioleate, Polyquaternium-6, Polyquaternium-53, Propanediol, PEG-18 Castor Oil Dioleate, Citric Acid,  Phenoxyethanol, Hexylene Glycol, Caprylyl Glycol Caprylyl Glycol functions as a hair conditioning agent, skin-conditioning agent, and in some cases an emollient, Ethylhexylglycerin
Directions: After rinsing hair out with shampoo, apply a dime-sized amount of conditioner to your hands. Spread it evenly on the roots and ends of your hair. Do NOT apply conditioner to the scalp. Rinse after a few minutes. Best results with Curly Assembly's Argan Oil Shampoo.