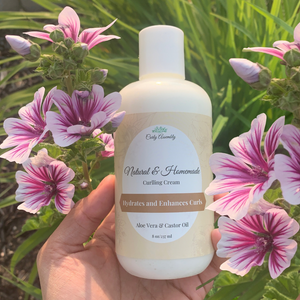 The purpose of a curling cream is to moisturize and define curls. Curly Assembly's Curling Cream (8 oz) uses enriched ingredients to provide maximum definition for your beautiful strands. Essential oils are added to give the cream a pleasant lavender fragrance and to help with hair growth. 
**Perfect for all curly hair types**
**Shelf life: 3-4 months**
Ingredients and Benefits:
Shea Butter - safe to use on damaged, dry, and colored hair; strengthens hair, reduce hair breakage, improves bounce of hair, defines curls
Lavender Essential Oil - contributes to hair growth, ntural fragrance, moisturizes hair
Additional Ingredients: Water, Aloe vera, Castor oil, Coconut oil, Grapeseed oil, Wax, Preservative
Directions: Apply a generous amount to hands. Rake hands throughout the entire hair and let dry. Best results if you use a diffuser or the finger coiling method.
Warning: Do not ingest. Keep out of reach of children.
Please note that curling creams DO NOT AUTOMATICALLY or guarantee hair growth. This business is built on honesty and I have no intention of lying to my customers. Many external factors depend on how your hair grows as well. This includes diet, hair products used, how you treat your hair, etc. In other words, curling creams are made to moisturize hair in order to help hair become curlier. If you're not taking proper care of your hair, then you will not see maximum results.